Vincent's Development Practice: Tuesday Conferences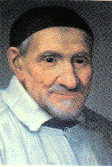 One of Vincent de Paul's practices was to bring priests of his region in France together for weekly conversations aimed at their continued growth in dedication and competency. These became known as the "Tuesday Conferences."
Bernard Pujo, one of Vincent's biographers, describes the sessions this way:
"The title 'Tuesday Conferences' was purposely chosen because of the etymology of 'conference'…to bring together. The conference is the bringing together of reflections on a given subject. These meetings were not the occasion of a passive audience listening to a prepared talk."
With Pujo's description in mind, we hope that you and your colleagues will interact with the information presented on this site, contributing to one another's growth as leaders through your reflection and dialogue on the material and the questions for reflection we have provided.
We also invite you to download the pages you will find here and perhaps lead your own weekly or monthly "conference" circle. A PDF link is available on each page to facilitate downloading the material.
If the work of Vincent on Leadership: The Hay Project is new to you, we invite you to visit us at leadership.depaul.edu.